AND FOR MY 500TH REVIEW (in goodreads)
WOW!


FIREWORKS!!!

Y to the A to the Y!!!


Not as hot as all the other KA books but still, this one's lovable and awesome.


I expected to love it because:

1. It's Kristen Ashley! C'mon.. we all know how she works.. ;p
2. There's magic
3. They're frikkin reincarnated and I love that!

And yes, it didn't fail me. Not only was their relationship a very interesting thing to read about, the characters were just all very lovable! I even love the grannies and grandpas! The plot was totally good! I have no problems whatsoever about the magic stuff and the hot alpha hero.

Colin wasn't easy to like at first. He was so suspicious about Sybil's motive that I kinda hated him. He gradually grew on me with his protectiveness once he confirmed that Sybil is THE ONE. I find his jealousy of ROyce to be quite adorable. haha! I enjoyed his "eating-my-words" scene when he found out the truth about Sybil. On the other hand, I loved Sybil right away! She's just an amazing character. I've known and trusted KA for giving out unique heroines in all of her books. This one is hands-down, one of her best heroines. I love Sybil because she's very passionate... EXTREMELY PASSIONATE, if I may say so my self. She's passionate in helping everyone and in being concerned about everything. I love how she talks to everyone as if they're her responsibility. I love how she let Colin care for her even though she knows that she can take care of her self. I also love how she still loved Colin even when she doubted him. The other characters were all so nice to them too that I can't help but love them all! Even Mags and Phoebe! They made me laugh hard! ;p

Their story of reincarnation is by far, one of the most enjoyable ones I've read. You see, these two are the exact replicas of two lovers who lived in the past, except that they had a switch with the colors of their hair. They found each other in the present and even with the whole confusion about their past lives, they were still able to find their connection and they were able to fall for each other all over again. They now face the challenge of not repeating history. They had a bad ending in the past so now, they are doing all they can not to have that ending again. It was all fun to read, thrilling even. Of course, it was also hilarious at some parts. There wasn't much conflict here except for their past lives which was catching up to them. In the end, they were able to defeat that "black spirit" and they lived happily ever after. Yes, I can say that THEY LIVED HAPPILY EVER AFTER because reading this novel just felt as if I'm reading a fairy tale.

This is special too because of the "doggy" part. I am in love with dogs, and Mallory? All I can say is AWWWWWWWWWW...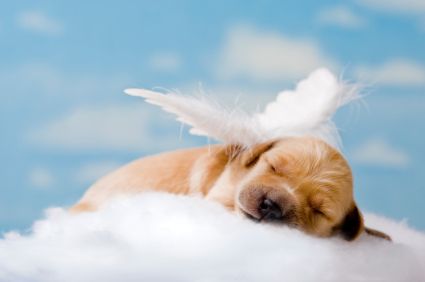 I wish that there's really a dog heaven out there. ;)


So there we have it. Another one of KA's best! I love you KA!!!! ^_^